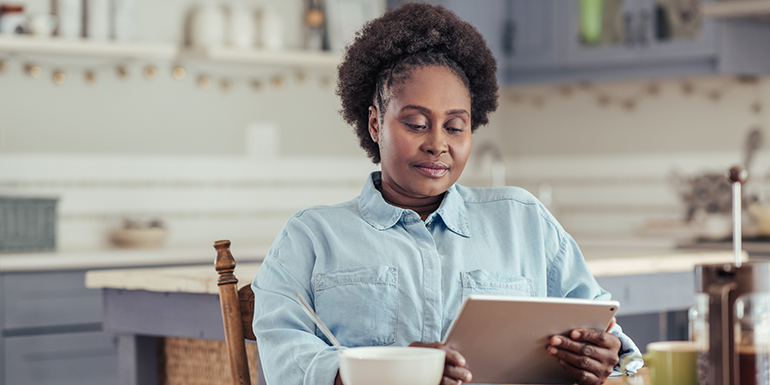 Healthcare analytics technology and clinical data registry software have made it easier to collect, organize, and analyze actionable, patient-sourced data.
In this post, we cover the three steps involved for successful patient surveys:
Building and distributing patient surveys.
Analyzing patient survey data.
Sharing and using patient-sourced data.
Step 1: Building and Distributing Patient Surveys
Patient-reported outcomes (PROs) are typically collected through a patient survey. They can be collected in the clinic or in an office setting, but increasingly are delivered to patients to complete in their own home and on their own time.
Patient Survey Design
When setting out to survey your patients, sometimes the tactical tasks that need to be done can feel overwhelming.
This list of considerations can be helpful as you plan your work:
Decide on an appropriate survey length. The length of your survey depends on how often your patients are surveyed. If your patients are going to be surveyed frequently (weekly, monthly), keep your survey as short as possible to achieve a higher completion rate. If your patients are going to be surveyed less frequently (quarterly, annually), they will tolerate longer surveys. Research tends to support approximately 30 questions as a maximum length to ensure surveys are completed.
Write for comprehension. Clinical information can be ill-defined and misinterpreted. Health information can also be especially difficult to process or overwhelming when the focus is one's own personal health. Take steps to keep survey language as simple and straightforward as possible and confirm that patients understand what the question is asking or the information being shared. Doing this benefits everyone and lowers the risk of miscommunication.
Make your survey useful. When patients understand why questions are being asked of them, they are more likely to engage. Here are a few questions to ask yourself:
How will you give patients access back to the data they have provided?
Do they know what their participation means to improving care?
Will providers be able to use the data to better inform care decisions?
Are they on board with being held accountable to how patient satisfaction is being measured?
Decide on what you would like to measure. There are options here:
Using validated survey instruments to collect data that is known to have excellent validity and measurement value. Some of these may have license fees, but this will greatly simplify your survey design if applicable.
Creating custom surveys can also be valuable to measure very specific clinical or emerging health topics that can be used for targeted research projects.
Decide on how the data should be collected. Drawing from a broad library of question types and answer variables will allow your survey to capture a wide variety of discrete and free form data elements. When choosing how to present each question, consider the type of device the patient will use to respond. Some answer types can be a challenge to answer on a mobile screen!
Build your survey. We work alongside our clients throughout the tactical design steps described above. We also can take it a step further. We build the survey for you and give you a link to test the experience your patients would have – the duration, reading level, measurement instruments, and usability of the questions and answers. This gives you the confidence the survey experience will be positive. We also have a self-service survey builder if you prefer to take these steps on your own.
Patient Survey Technology
Now that you have considered the tasks to build your survey, ensure you're using the best technology. Successful patient surveys collect the right data from the right person at the right time. Your PRO technology should:
Support access through any web-connected device.
Securely deliver pre-authenticated survey links that do not require a username or password.
Use clinical event or time-based triggers to deliver surveys automatically when necessary and most relevant.
Support integration with other administrative systems, e.g. scheduling.
Support standardized measurement instruments (ODI, PROMIS, etc.) or specialty-specific custom surveys.
Use traditional survey functionality, including advanced skip logic, workflows, text formatting, help text, and other standard features.
Support varied answer types, e.g. Likert scale, ranges, radio buttons, checkboxes, and more.
Present content back to the patient in response to their survey answers, in the form of adherence guidelines, helpful resources, or important trends in their data.
Be easy-to-use so you can design and distribute your own surveys whenever, wherever.
Track the distribution and completion percentages to determine survey effectiveness.
Step 2: Analyzing Patient-Sourced Data
Once you collect and organize it, there is tremendous analytic value in patient-sourced data. Specifically, it:
Fills data gaps that often exist from other registry data sources by going beyond what happens in the exam room.
Can be blended with other data sources to provide a (1) fuller understanding of an individual's health; and (2) better understanding health factors among distinct patient populations or patients with specific clinical profiles.
Enables longitudinal analysis.
Supports tracking additional measures (e.g., quality of life, functional abilities, satisfaction) that would not otherwise be possible.
Informs predictive models to enhance clinical decision support tools.
Step 3: Sharing and Using Patient-Sourced Data
Patient-reported data has unlimited purpose. But it's only as useful as you make it. Here are a few examples of how registries are using PROs to advance their goals:
Sharing pre-operative and post-operative results: The Abdominal Core Health Quality Collaborative's registry monitors controversial mesh repair procedures in the U.S. It is accepted broadly in the medical community that better evidence of device and surgical performance is needed and can inform how physicians choose to practice. The power of the data in this registry is supplemented by using PROs pre-operatively and post-operatively to obtain long term follow-up from patients who undergo hernia surgery.
Predictive calculators for gauging risk and making informed decisions: The Michigan Bariatric Surgery Collaborative uses long-term PRO survey responses on patient weight and satisfaction with results to determine the likelihood of adverse events and complications by procedure and resolution of comorbidities. This predictive calculator can be used by physicians and patients together to discuss the risk tolerance and likely outcomes for each option.
A Checklist for Patient Surveys
When you put it all together, patient survey should be Useful, Usable, Used, and Understood. As you take steps to design, build, and distribute patient surveys, keep these questions in mind:
Useful
Will the responses lead to better care decisions and outcomes?
How will physicians and researchers use this information?
How is the survey useful to patients?
What's in it for them?
Usable
Is the survey easily accessible?
Can patients take it in a setting that is convenient and comfortable?
What is the appropriate frequency and length? (What is relevant and actionable, but not burdensome?)
Used
How are you making answers and responses available to physicians and researchers?
How are you sharing information back with patients?
How are you combining patient data with other clinical data sources?
Are you connecting patient-sourced data to physician performance?
Understood
Are the questions easy to understand?
Do patients know what is being asked of them?
Are you sharing data back in a way that is easy to interpret?
Get Started with Patient Surveys
The journey to design powerful surveys, analyze the data that they provide, and then to share the data to change healthcare delivery is worth taking. We are here to help.
If you have any questions or would like to learn more about our patient survey and patient-reported outcomes solutions for clinical registries, contact our team.