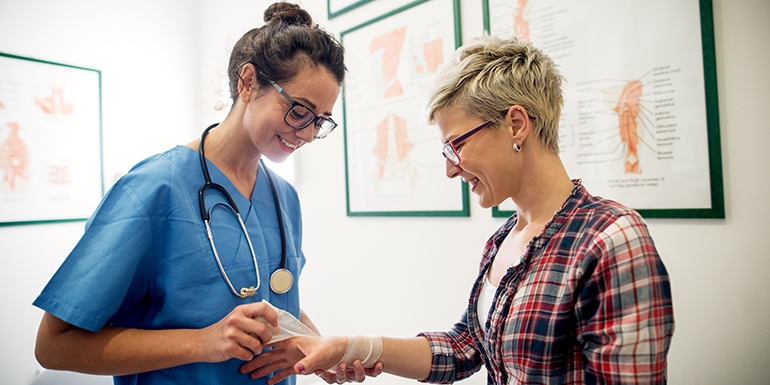 This year's virtual CMS Quality Conference reflected the state of the nation, set against the backdrop of the triple epidemic of COVID-19, opioid use, and health disparities.
The Centers for Medicare and Medicaid Services (CMS) envisions a technologically advanced, safe, and equitable healthcare system for all while concentrating on patient empowerment and innovative use of data to drive results. The focus is on propelling the healthcare system into becoming a "health-creating" system. This involves revolutionizing the timeliness of performance data, reduction of health inequities, and a focus on meaningful, forward-thinking measurement.
While the conference explored a wide variety of topics, including the impact of COVID-19 on all areas of health, it focused on how we can produce more equitable outcomes in fighting expensive and debilitating health problems such as opioid misuse and end-stage renal disease. Quality, especially related to Medicaid and Children's Health Insurance Program (CHIP) recipients, was also of significant value to registries revolved around changes to the Quality Payment Program and IT Infrastructure.
Here are our 5 key takeaways from the conference.

1. The Pandemic Has Forced Data Into Action
The Coronavirus pandemic has simultaneously magnified the issues of healthcare and has accelerated finding solutions.
Health inequities have become more pronounced as communities of color suffered disproportionate death and morbidity as a result of COVID-19. Opioid use in all communities has increased as a result of economic stressors, social isolation, and the lack of a robust mental health care infrastructure.
CMS has doubled down on its efforts to prioritize patient safety and quality outcomes, protect vulnerable populations, address inequity, and create a resilient healthcare system. Clinical registries and data science play an important role in addressing each of these.
The pandemic has forced data into action, establishing reporting mechanisms in arenas that had been previously neglected, including nursing homes, dialysis facilities, and labs. This of-the-moment reporting helped to create timely interventions that lowered the incidence of COVID-19 infection even before vaccines.
The pandemic has taught us that harnessing real-time data is not only possible, but essential in directly improving patient outcomes.
2. The Future of Healthcare Relies on Data and Technology
Digital health is the cornerstone to revolutionizing healthcare and creating an implementation-focused health-creating system. As the volume of data available to both patients and providers increases, we should be utilizing this data to zero in on preventative measures, as well as improving the value and efficacy of care.
The use of data and information, through registries or other healthcare analytics programs, are key to enabling essential aspects of a healthy, robust healthcare infrastructure to allow for payment and management of accountable, value-based care and development of learning health organizations.
Standardization must drive the conversion to a digital health infrastructure. CMS has outlined a roadmap for utilizing Fast Healthcare Interoperability Resources (FHIR(R)) API technology to transform all quality measures to a digital format by 2025. Data-driven frameworks allow healthcare technology to be both individual and scalable, and can leverage centralized tools to analyze measures and programs.
This forward-looking stance also sets the stage for technologies like machine learning and neural networks. These are essential for long-term solutions to reduce burden and deliver more personalized medicine.
3. The Measures We Use Should Be Purposeful And Meaningful
The CMS Meaningful Measures framework established a system for developing strategic focus areas for measurement that assessed gaps in care and align measures accordingly.
After four years of implementation and a renewed commitment to value-based care, CMS is upgrading to Meaningful Measures 2.0. This is a framework to emphasize utilizing purposeful measures at the right time to drive improvement, reduce burden to clinicians, and be useful to patients in making decisions about their care.

CMS intends to prioritize and utilize measures for high priority targeted areas, such as socioeconomic status, maternal mortality, kidney care and home and community-based services.
Instead of collecting data in a siloed fashion, there is an emphasis on holistically collecting data to focus on the outcome of developing healthful systems. CMS has pledged to examine its value-based programs with a focus on modernization and alignment and to simplify quality programs.
Over the next year, CMS is introducing Alternative Payment Model Pathways (APPs) as an extension of alternative payment models and MIPS Value Pathways (MVPs) to the Quality Payment Program, with the goal of introducing 8-10 new MVPs in this year's proposed rule. The MIPS Value Pathways will serve to reduce clinician burden and tightly align quality, cost, improvement activities, and interoperability.
4. The Role and Voice of The Patient Comes First
Patients have become more savvy health consumers. They are not only consuming more health-related information, but they are also becoming instrumental at co-producing their care.
Historically, patients have not had the transparency into their own health data needed to make educated decisions about their care. To address this, CMS is committed to amplifying the patient's voice in healthcare by increasing patient-centered measures and Patient Reported Outcome Measures (PROMs) by 50%. In creating a more transparent healthcare system, CMS has pledged to expand the availability of public use files for CMS data by 2021.
Patient-centered, culturally relevant care was also a major topic of discussion in conjunction with equity initiatives. Notably, many healthcare systems and clinical registries are already including the patient perspective and measuring health disparities with patient-reported outcomes (PROs).
While much emphasis has been placed on putting patients first, we cannot ignore the role of provider safety in creating an environment for patient care. Safety, whether it is in the form of personal protective equipment for clinicians or creating a psychologically safe atmosphere for providers to ask questions and make mistakes, must also be at the forefront of our healthcare system for the protection of patients.
5. The New Normal Is Health Equity
Socioeconomic conditions and health are inextricably linked. CMS is redoubling efforts to expand the health system to incorporate social science and implement stratifying measures to address health equity. Addressing barriers to care through standardization of social determinants of health (SDOH) and demographic data is paramount to addressing inequities.
Measurement tools such as the Health Equity Summary Score (HESS) apply the fundamentals of measurement to addressing social risk factors. HESS takes two very readily available elements of race/ethnicity and Medicare/Medicaid dual eligibility status to determine health disparities and develop quality improvement interventions to alleviate them.
Data collection on health-related social needs and integration with community services is essential in addressing gaps related to healthcare. These clinical and community linkages stand to improve the quality of life for patients and lower costs.
If you want to learn more about the ethical obligation of healthcare stakeholders to address health inequity, read my post "Steps to Address Health Inequity: Awareness, Measurement, and Action."
Resilient Healthcare for the 21st Century
In summary, CMS recognizes that healthcare must be recognized more holistically as healthfulness.
This is a multifaceted concept and emphasizes the importance of authenticity and wrap-around services in meeting patient needs. Creating a resilient healthcare system for the 21st Century is an integrative process and must incorporate cultural sensitivity, technology, psychological safety for clinicians, and patient-generated data for optimal results.
All healthcare organizations – especially those involved in care delivery and treatment – play a role in realizing this vision.
Professional medical societies and quality collaboratives can design and develop registries that leverage standards-based interoperability and address emerging research priorities and questions.
Provider organizations can heighten the role and voice of the patient with patient-reported outcomes and shared decision making, and understand and address health disparities across their populations.
Healthcare analytics organizations, like us, can embrace and drive adoption of standards and technologies that make performance measurement more efficient and accessible.
If you are ready take your quality improvement work into the future, or want to better understand how CMS's priorities affect your program, let's connect. You can email me at cprice@arbormetrix.com.