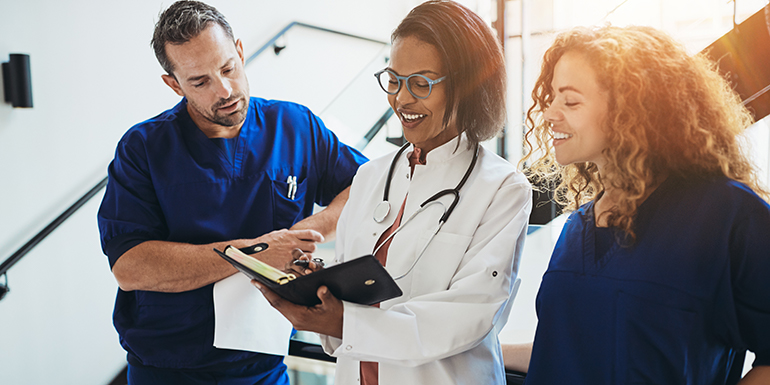 Striving to improve is always a worthwhile pursuit, but measuring your own improvement is only one piece of the healthcare quality puzzle. To see the full picture of the effectiveness of your efforts, you need to understand how you compare.
That's where healthcare benchmarking comes in.
Benchmarking allows you to compare yourself or your organization to others and it is a critical component of successful quality and performance improvement. This is especially true in clinical registries where benchmarks aren't about rankings, but rather, achieving real-world results.
Let's dive into the basics of healthcare benchmarking in registries.
In this post we will cover:
What Is Healthcare Benchmarking and Why Does It Matter?
How Do You Benchmark Healthcare Performance?
What Are Examples of Healthcare Benchmarking?
What Is Healthcare Benchmarking and Why Does It Matter?
Put simply, benchmarking in healthcare means comparing the performance of an organization or clinician to others.
The goal of benchmarking in registries is to improve quality, efficiency, and patient experience.  Accurate comparisons and fair benchmarking are critical components of successful quality improvement initiatives.
When it comes to registries, benchmarks are highly valuable for individual sites or clinicians.
Your registry participants can use benchmarks to understand how they compare to others and why. Benchmarks can help orient their organization in the broader healthcare landscape. They'll not only understand where they rank — at the bottom, middle, or top of the pack — but also understand why.
Benchmarking allows hospitals and practices, individual clinicians, and other healthcare organizations to monitor their own performance, compared to their de-identified peers, as applicable. Benchmarks can be applied to metrics about patient characteristics, volume, processes, outcomes or other meaningful categories.
How Do You Benchmark Healthcare Performance?
One way we approach benchmarking is through our reporting framework.
We look at:
Descriptive Statistics: Who makes up my population?
Process and Adherence: What am I doing?
Outcomes: What are my outcomes?
Comparison: How do I compare?
After understanding the basics of your data, what initiatives you're undertaking regarding process and adherence, and what your outcomes look like, benchmarking your metrics against your peers is the next crucial step.
Comparison has always been a key component of our analytics and reporting framework because it uncovers opportunities to improve.
We provide reporting and peer benchmarking capabilities at the clinician, practice, multi-practice, multi-facility, and organization levels. This enables organizations to compare individual clinicians or practices/sites to the appropriate benchmark.
To accurately analyze benchmarks, you need to clearly articulate both what metrics you are comparing and what organizations you are using as comparisons.
Metrics of interest for healthcare benchmarking include:
Mortality rates
Length of stay
Readmissions
Postoperative complications
Patient wait times
Adherence to established protocols, such as hand washing
Patient satisfaction
Pharmaceutical side effects and outcomes
Outcomes following the use of medical devices
Comparison metrics are most accurate with a proper comparison group, also called a peer group. A peer group is a group of individuals or entities that share similar characteristics and interests among one another. Importantly, peer groups allow organizations to compare themselves to other, similar organizations.
To accurately identify your peer group, consider the following characteristics of healthcare organizations and practices:
Bed size
Procedure volume
Provider volume
Practice type (Private Practice, Academic/Research Hospital, Healthcare System, Outpatient Lab, Federal Government Facility)
Private practices
Geographic type (e.g. urban, rural suburban)
Teaching hospital
Department
Single-specialty vs. multi-specialty
Region
Benchmarking is a key competency of all reporting in our registries. We make the process simple by configuring specific groups for aggregation and benchmarking for you. The benchmark groups available to you can be managed through your administrative dashboard and you can modify them at any time. We include an organization-wide 'All' benchmark, as well as the ability to create peer groups of custom benchmarks. You can visually compare your organization's performance to any benchmark, and benchmark values are color-coded on reports to allow for ease of use.
Example of Clinician Benchmarking
Benchmarking can help clinicians understand their individual performance compared to their peers and assess how a change in protocol or a quality improvement initiative is working. Benchmarks can also help clinicians assess their efficiency, case mix, and quality in comparison to others.
For example, a clinician may notice that a particular peer has exceptional medication adherence among his patients. This may encourage conversations about communication techniques and other patient engagement strategies to improve performance.
Armed with useful and engaging benchmarking insights, clinicians are empowered to course-correct in real-time to elevate their performance and improve patient outcomes overall.
Example of Hospital Benchmarking
To both deliver high-value healthcare and succeed with value-based reimbursement, insights gleaned from hospital benchmarking are critical.
By seeing how they compare to their peers, hospitals can better understand the results of organization-wide quality improvement initiatives, manage resources, reduce costs, improve outcomes across episodes of care, drive real-time interventions, and optimize participation and results in value-based reimbursement programs.
Hospital Quality Improvement Platform from HQI
The Hospital Quality Institute (HQI) is a state-level registry dedicated to the study and coordination of patient safety and quality improvement initiatives throughout California. In partnership with ArborMetrix, HQI created the Hospital Quality Improvement Platform. It is a central source for all California hospitals to obtain timely, actionable intelligence to drive their quality improvement efforts.
The Hospital Quality Improvement Platform shows hospitals how they measure up to other hospitals in their region and to statewide quality standards. Hospitals who use the platform understand their performance and where they need to improve.
The cloud-based platform provides access to 300 risk-adjusted episode quality measures for common acute conditions most affected by hospital quality initiatives. It delivers insights into hospital-acquired conditions, patient safety indicators, and inpatient quality indicators.
Hospitals can also drill into benchmarks and reports to determine the underlying drivers of variation. Specifically, reports within the HQI platform show hospital performance over time and provide hospitals with meaningful peer comparisons across the state, by region, and by hospital size, for standardized measures that matter for improving care delivery.
By participating, hospitals can dig into their opportunities for improvement and identify valuable actions they can take to make progress.‍
Example of Medical Device Benchmarking
Once device manufacturers have a product on the market, they need to understand how that device performs in the real world. Registries are the perfect tool for this.
For example, medical device manufacturers that develop products used for extracorporeal membrane oxygenation, commonly referred to as ECMO, are leveraging real-world data from a centralized registry managed by the Extracorporeal Life Support Organization (ELSO).
ELSO's Quality Registry is the largest source of real-world data on ECMO in the world. It tracks the use of medical devices for ECMO, and it contains details on devices and patient demographics, clinical information, patient outcomes, and adverse events.
Device manufacturers leverage data from the ELSO Quality Registry through a device registry called ELSO Evidence Explorer. They have access to de-identified real-time data from more than 700 centers worldwide. Companies use this information to understand how clinicians are actually using their devices, what the average patient looks like, and how their device performs in the real world — including how it compares to existing options and the standard of care.
If you want to learn how to build a better benchmark, check out my post: 3 Best Practices for Healthcare Benchmarking in Clinical Registries