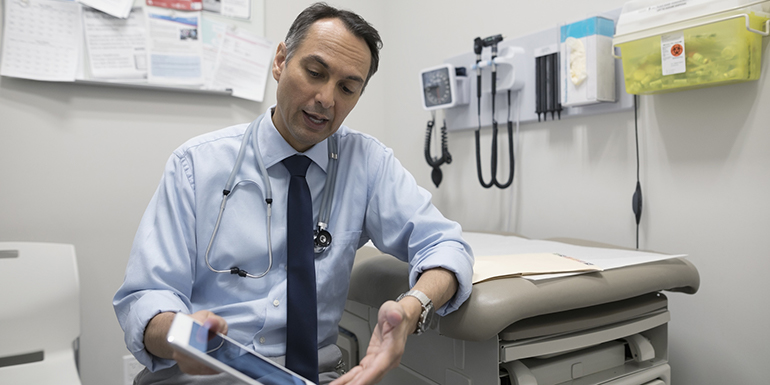 Many medical organizations and an overwhelming majority of eligible physicians choose to participate in the Centers for Medicare & Medicaid Services (CMS) Merit-based Incentive Payment System (MIPS).
Through MIPS, clinicians and other medical organizations have the opportunity to earn higher payments for high-quality care. For many, reporting performance data to CMS for the MIPS program means participating in a clinical registry.
A clinical registry that supports MIPS reporting, whether through a qualified registry (QR) or a qualified clinical data registry (QCDR), is one piece of a comprehensive solution that facilitates quality improvement. Additionally, because so many clinicians participate in MIPS, QCDRs and QRs are valuable tools that medical specialty societies can offer to their members. Clinicians who participate in QCDRs drive their own success with quality reporting, and they also optimize their reimbursement, understand how to improve, and take control of their performance.
QCDRs continue to provide a major mechanism for quality reporting, with 57 registries approved for 2021.  [1] Notable national QCDRs include the American Society of Clinical Pathologists' National Pathology Quality Registry and the American College of Mohs Surgery MohsAIQ registry.
The MIPS program has had its ups and downs since its inception, but the program is here to stay, and the stakeholders involved have learned how to improve the effectiveness and efficiency of the program. Read on for a quick refresher on QPP, MIPS, and QCDRs, and an overview of the MVP program. We will provide a breakdown of the MIPS performance categories and how your technology can best support each one. Finally, we'll end with the key takeaways from the 2021 MIPS Final Rule — including a change in performance category weights to emphasize cost — and what it all means for your organization and your registry.
In this post we will cover:
MIPS and QCDRs: A Refresher
MIPS Performance Categories
Key Highlights of the 2021 MIPS Program and Final Rule, including APPs and MVPs
MIPS and QCDRs: A Refresher
Value-based payment programs take many forms, from episode-specific Medicare payment bundles (such as for knee replacements) to accountable care organizations. All of these programs have the same goal: increase care quality while reducing costs. One extremely popular value-based payment program is MIPS; in fact, in 2019, 97% of eligible providers participated in the program. [2]
So what exactly is MIPS, and how can a healthcare provider or organization participate? Let's start by reminding ourselves of the basics.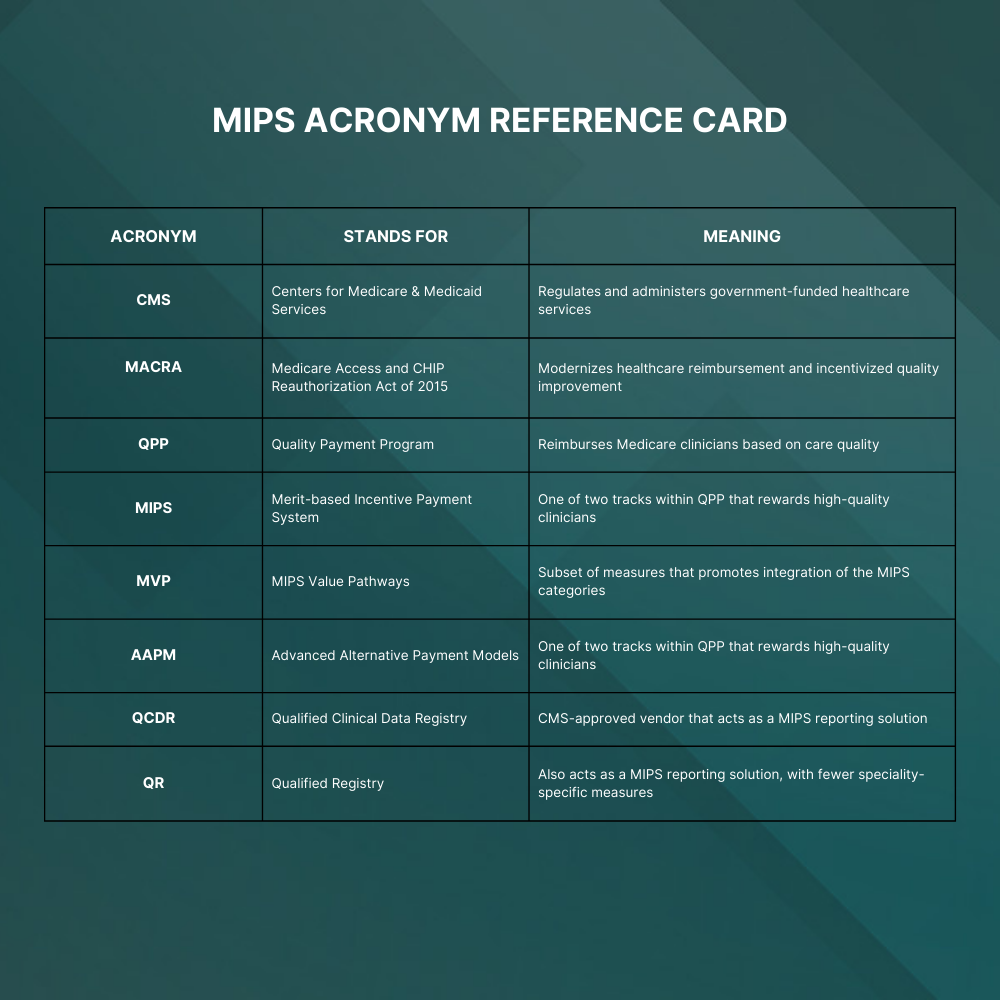 ‍What Are MACRA and QPP?
The Medicare Access and CHIP Reauthorization Act of 2015 (MACRA) was passed by Congress to help modernize the healthcare reimbursement system while also financially incentivizing quality improvement. To that effect, MACRA established the Quality Payment Program (QPP), which rewards high-performing Medicare caregivers with higher payments while also decreasing payments to low-performing clinicians. [3] The goal of QPP is to improve the quality of patient care while also reducing costs.
Through QPP, clinicians can access quality-based reimbursement via the Merit-based Incentive Payment System (MIPS) or through Advanced Alternative Payment Models (AAPM). Clinicians choose one of the two tracks based on factors such as the size of their organization or the makeup of their patient populations.
What Are MIPS and MVP?
The Merit-based Incentive Payment System (MIPS), also established by MACRA, launched in 2017, and it financially incentivizes improving care quality. It is one of two tracks clinicians can use to receive quality-incentivized Medicare reimbursement under QPP.
Clinicians participating in MIPS receive performance-adjusted payments for Medicare Part B services. Payments are adjusted based on how clinicians measure up in four performance categories—discussed in greater detail below—which are each weighted differently. The resulting final MIPS score, which is measured on a scale from 0 to 100, ultimately determines whether a clinician's payment adjustment is positive, neutral, or negative. [4]
Beginning in Performance Period 2022, the MIPS Value Pathways (MVP) program will promote further integration of the MIPS categories by streamlining clinician participation through a hybrid approach. MVP will measure clinicians on a unified set of measures and activities around a clinician condition or specialty and are intended to be a pathway to advanced alternative payment models. Read "MIPS Value Pathways: What You Need to Know" to learn more about the changes coming to the MVP program and how you can prepare your registry and clinicians for what's ahead.
What Is a QCDR?
A Qualified Clinical Data Registry (QCDR) is an entity approved by CMS that aims to improve care quality. Many healthcare organizations, including health systems, medical specialty societies, and quality collaboratives, run QCDRs.
These specialized registries collect data from clinicians and report this data to CMS on their behalf for MIPS. QCDRs offer eligible clinicians a single way of participating in all aspects of MIPS.
A QCDR can therefore serve as a MIPS reporting solution while also supporting individual clinician and specialty-wide performance improvement.
Specifically, a QCDR can:
Facilitate quality improvement, patient safety initiatives, and research.
Report on the right measures to optimize future CMS reimbursement.
Allow clinicians to spend time delivering care instead of documenting it.
Help clinicians know where they stand and what to do to improve.
While clinical data registries provide the framework for quality improvement in many healthcare settings, QCDRs are uniquely positioned to drive robust engagement by specialist physicians.
By offering relevant, specialty-specific quality measures, QCDRs can be used to satisfy MIPS reporting requirements. The most effective quality measures in this context are those that seamlessly integrate into clinician workflow, have low barriers for data collection, fairly attribute outcomes to the proper clinician, and measure performance gaps in a manner that allows for feedback and subsequent improvement.
What Is a QR?
A qualified registry (QR) also collects data from clinicians, which it then reports to CMS. The main difference between QRs and QCDRs is that QCDRs can collect and report specialty-specific measures that are not part of the MIPS measure set. Because QRs and QCDRs are so similar, they offer many of the same benefits, with the caveat that QCDRs are often more useful for specialist physicians.
MIPS Performance Categories
Physician organizations and health systems use QCDRs for MIPS reporting to efficiently collect and organize the clinical data they need to demonstrate improvements in quality of care and easily report their MIPS performance measures. Many medical specialty societies and associations have also established QCDRs to demonstrate improvement in care quality.
There are four reporting categories for MIPS:
Quality: Clinicians are measured based on the quality of the care they provide.
Promoting Interoperability: Healthcare organizations are measured based on how they facilitate and deploy electronic health records (EHRs). By using EHRs, clinicians and health organizations can more fully engage patients in their own care by making their health information more readily accessible.
Improvement Activities: Healthcare organizations are assessed on how they go about making improvements to their care processes.
Cost: Healthcare organizations are assessed on their cost of care.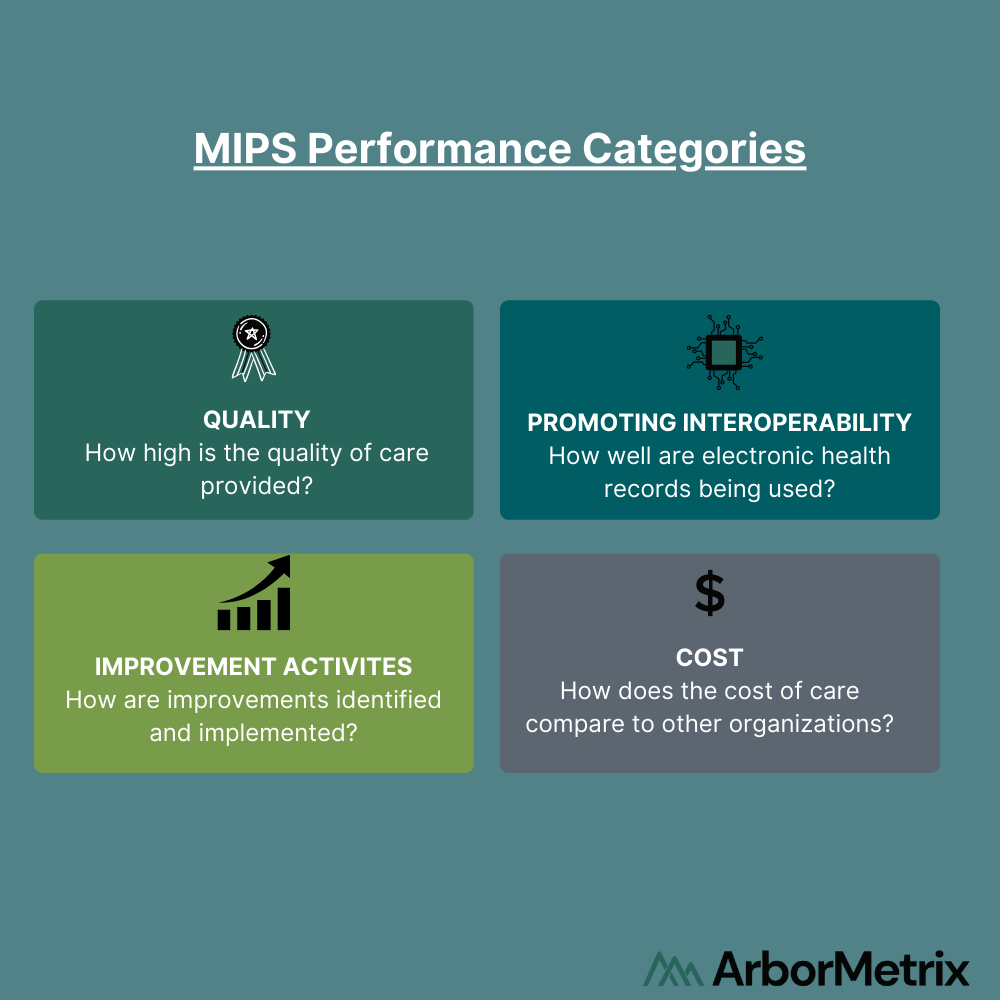 Medical organizations that make the right performance measures available through their QCDR can drive increased registry performance and value. Performance measures can be created in a way that minimizes workflow disruption and eliminates the perceived burden of registry participation, or refined to meet high-priority, specialty-specific needs.
QCDRs have accomplished this with quality MIPS reporting solutions that:
Report on the right measures. Providers who optimize QCDR performance measures can uncover valuable insights and demonstrate improvements in the quality of care. This simplifies MIPS reporting and optimizes future CMS reimbursement.
Reduce the amount of time spent dealing with data. Busy physicians have little time to spend on data collection. A quality reporting solution simplifies the documentation process and frees up more time to deliver care.
Provide clear outputs. A strong QCDR will include a layer of data analysis that provides clear outputs for providers so they know where they stand and how they can improve in the future.
There are many valuable uses for registries beyond acting as QCDRs for MIPS reporting, but for registries that have solid quality improvement and research objectives, engaging a QCDR is an effective strategy to add even more practical day-to-day value to your registry.
Key Highlights of the 2021 MIPS Program and Final Rule
The MIPS program changes slightly every year and will shift how healthcare providers and systems leverage their QCDRs. Forward-thinking groups should be aware of annual changes and be prepared to adjust their data collection and reporting accordingly. For clinicians reporting traditional MIPS in 2021 (for payment in 2023), the new MIPS rules stipulate that while the performance threshold of 60 points will not change, the weights of the performance categories will shift slightly to reflect the rising importance of cost.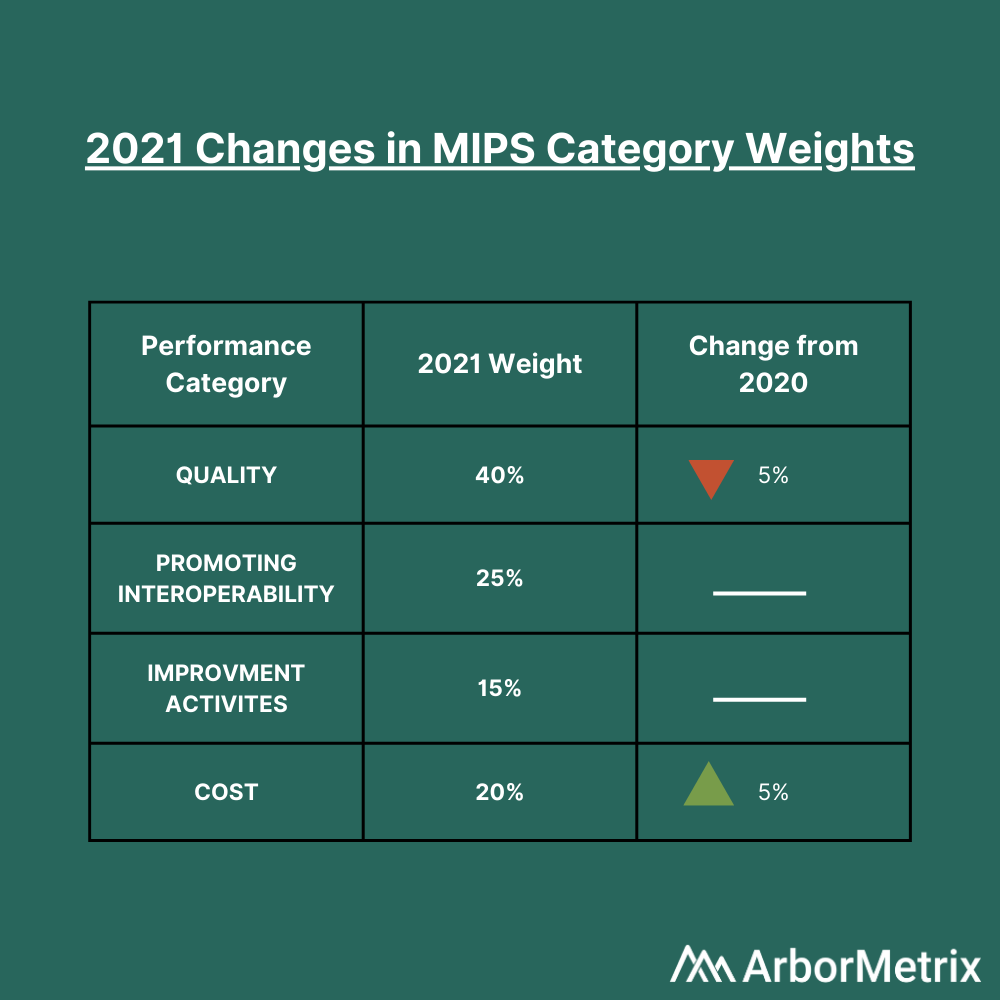 A solid QCDR will allow health providers, systems, and medical associations to adapt to changing requirements and continue to optimize reimbursement incentives.
CMS has announced new, focused efforts to improve its QCDR and QR partnerships in an effort to reduce reporting burden for clinicians. In light of the COVID-19 pandemic, CMS has limited the number of changes to the Quality Payment Program in the 2021 Final Rule.
In addition to adjusting the performance threshold and category weights for traditional MIPS, the 2021 QPP Final Rule fleshes out the framework for MVPs and introduces Alternative Payment Model Performance Pathways (APPs), which create more specific implications for QCDRs and QRs by aligning all MIPS performance categories into cohesive reporting mechanisms.
MVPs will function with population health and promoting interoperability measures as its basis. These measures are applicable to all value pathways within the program. MVPs will incorporate patient input, digital measure reporting, and subgroup reporting to create a simplified and holistic reporting system for both registries and clinicians.
APM Performance Pathways, intended for participants in MIPS APMs, are complementary to MVPs and will allow clinicians and groups to report on six quality measures centered on population health. APPs will incorporate measures in each performance category while factoring in cost at the individual APM level. QCDRs and QRs are integral in this program since three of the reported measures will be electronic clinical quality measures (eCQMs), MIPS clinical quality measures, or Medicare Part B claims measures.
These policies are still being finalized, but the Final Rule will allow QCDRs, QRs, and health IT vendors to support APPs this year and MVPs starting with the 2022 performance period. The Final Rule also introduces new validation requirements for QCDR and QR data and reporting measures.
Explore the ArborMetrix Complete Solution for CMS-Approved QCDRs
ArborMetrix has a long track record of providing comprehensive support for MIPS reporting with all of the requirements for CMS-approved QCDRs and QRs. We have successfully helped more than 30,000 providers report to CMS via QCDRs, supported several organizations through the annual QCDR self-nomination process, and maintained thousands of measures for our clients.
If you have questions about MIPS reporting or would like to learn more about our QCDR solution, you can contact me at cprice@arbormetrix.com.
‍
References