American Academy of Sleep Medicine Partners with ArborMetrix for the First Clinical Registry Dedicated Solely to Sleep Medicine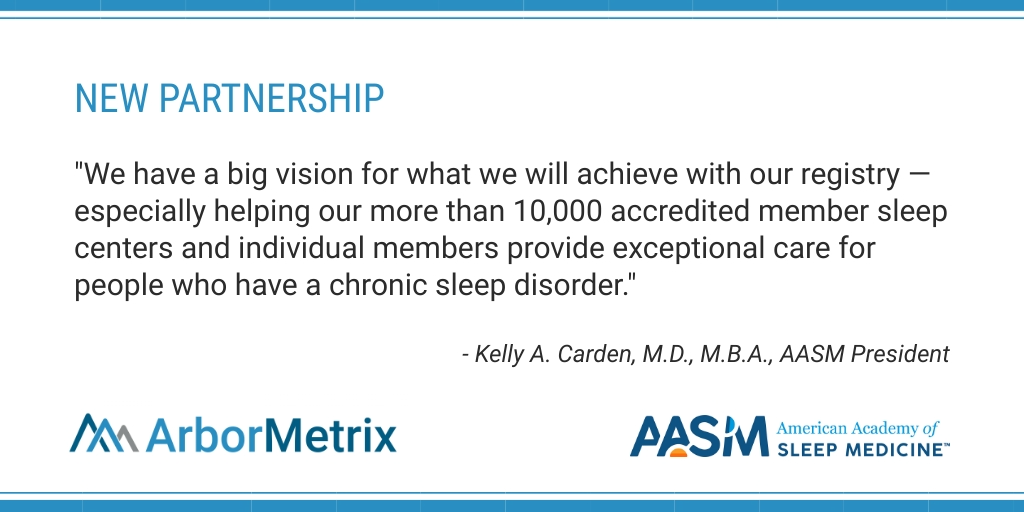 ANN ARBOR, MICH./July 8, 2019 – ArborMetrix has been selected by the American Academy of Sleep Medicine as its technology and analytics partner.
Together, AASM and ArborMetrix will create the first-ever clinical data registry designed exclusively for sleep medicine.
"We have a big vision for what we will achieve with our registry – especially helping our more than 10,000 accredited member sleep centers and individual members provide exceptional care for people who have a chronic sleep disorder," said AASM President Kelly A. Carden, M.D. M.B.A. "ArborMetrix understands that we need data analytics to achieve these goals. The company brings informatics and technical expertise that will help us deliver meaningful tools to engage our provider and patient communities, drive results, and deliver value."
AASM's registry will be built on ArborMetrix RegistryX, which leverages health care industry standards to intake data and transform that data into knowledge through smart analytics. AASM members will understand the drivers of real-world outcomes as they interact with flexible reports and visualizations available within the registry. Members will also be able to explore what is most important to the care they deliver to people with sleep disorders.
The AASM registry will facilitate data collection to support AASM accreditation, measure testing and validation, research, quality improvement activities, and participation in national quality reporting programs. Additionally, to inform a more comprehensive view of quality, AASM will incorporate the patient perspective by collecting patient-reported outcomes (PROs) data. AASM will use RegistryX's PRO tool to collect the right data from the right patient at appropriate time intervals, through intuitive surveys available via a modern, mobile-friendly interface.
"The AASM registry will become a central resource and a single source of truth on what drives quality care in sleep medicine," said Bradley Moore, M.P.H., Director of Registry Solutions at ArborMetrix. "Having evidence that identifies what leads to actual outcomes will enable AASM and its community to have a meaningful and measurable effect on care."
About AASM
Established in 1975, the American Academy of Sleep Medicine (AASM) improves sleep health and promotes high quality, patient-centered care through advocacy, education, strategic research, and practice standards. The AASM has a combined membership of 10,000 accredited member sleep centers and individual members, including physicians, scientists, and other health care professionals (aasm.org).
ArborMetrix
ArborMetrix is the leading provider of healthcare analytics technology and services that improve outcomes, advance research, and demonstrate safety, effectiveness, and value. The ArborMetrix team of healthcare and data science experts help their customers transform meaningful data into high-quality, real-world insights to achieve measurable results.