Interventional Radiology Registry to Advance Patient-Centered Care with Real-World Evidence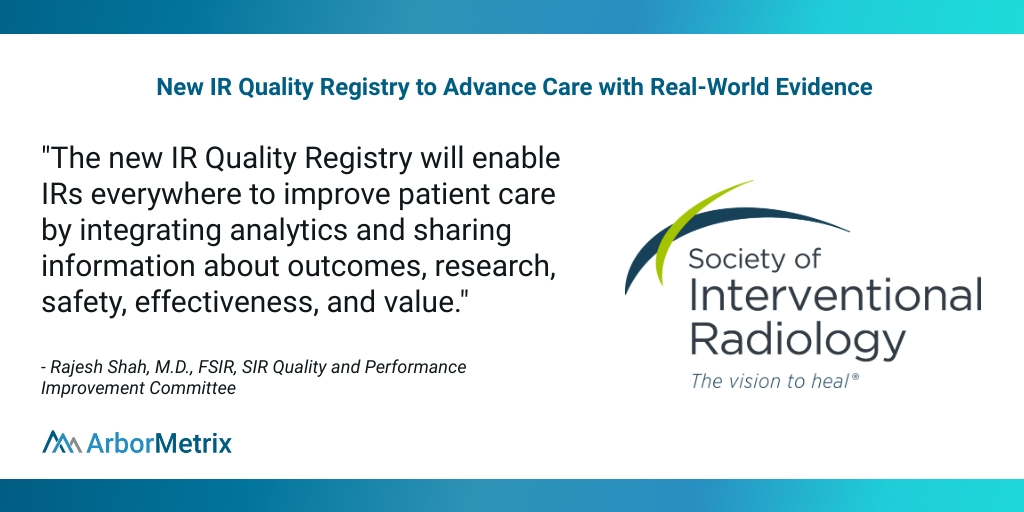 ANN ARBOR, MICH. / JUNE 11, 2020 – The Society of Interventional Radiology (SIR) has selected ArborMetrix as its partner for the IR Quality Registry. The registry is instrumental in ensuring that interventional radiologists are providing high quality, evidence-based care and improving health outcomes within targeted patient populations.
"The new IR Quality Registry we're developing with ArborMetrix will enable IRs everywhere to improve patient care by integrating analytics and sharing information about outcomes, research, safety, effectiveness, and value," said Rajesh Shah, M.D., FSIR, chair of SIR's Quality and Performance Improvement Committee. "Collecting these performance measures for image-guided minimally invasive treatments will ensure we can set benchmarks to facilitate patient safety and quality care."
The IR Quality Registry will leverage ArborMetrix's registry technology and industry-leading analytics to transform data into knowledge for decision making. The SIR community will use the registry to drive measurable quality improvement and medical research. The registry will also support SIR members in meeting accreditation and regulatory reporting requirements.
"Evidence-based medicine ensures optimal outcomes for patients," said Susan E. Sedory, M.A., CAE, SIR's Executive Director. "Through our partnership with ArborMetrix, SIR members will be able to collect, access, and share important outcomes data that will improve patient care."
ArborMetrix is providing a fully managed registry solution that will help SIR leverage data to evaluate the quality of risk-stratified IR care and drive research on devices, techniques, resource utilization and economics. Ultimately, it will offer a variety of stakeholders across the specialty and industry the insights into IR care.
"SIR is leveraging this registry to further demonstrate the value of IR care," said Bradley Moore, M.P.H., Director, Registry Solutions, ArborMetrix. "The IR Quality Registry will continue elevating care delivery with innovative analytics and data-informed insights that result in improved patient care and quality of life."
About the Society of Interventional Radiology
The Society of Interventional Radiology (SIR) is a nonprofit, professional medical society representing more than 8,000 practicing interventional radiology physicians, trainees, medical students, scientists and clinical associates, including physician assistants, nurse practitioners, radiologic technologists and paramedical professionals. SIR's members work in a variety of settings and at different professional levels—from medical students and residents to university faculty and private practice physicians. The society's core purpose and mission is to work with its members to deliver patient-centered care through image-guided therapy.
About Interventional Radiology
Interventional radiologists pioneered the use of image-guidance to deliver minimally invasive, targeted treatments that reach the source of a medical problem through blood vessels or directly through a tiny incision in the skin. Interventional radiologists are board-certified physicians who treat an array of conditions across the body—such as cancer, vascular disease, and men's and women's health conditions—with less risk, less pain, and less recovery time than traditional surgery.
ArborMetrix
ArborMetrix is the leading provider of healthcare analytics technology and services that improve outcomes, advance research, and demonstrate safety, effectiveness, and value. The ArborMetrix team of healthcare and data science experts help their customers transform meaningful data into high-quality, real-world insights to achieve measurable results.