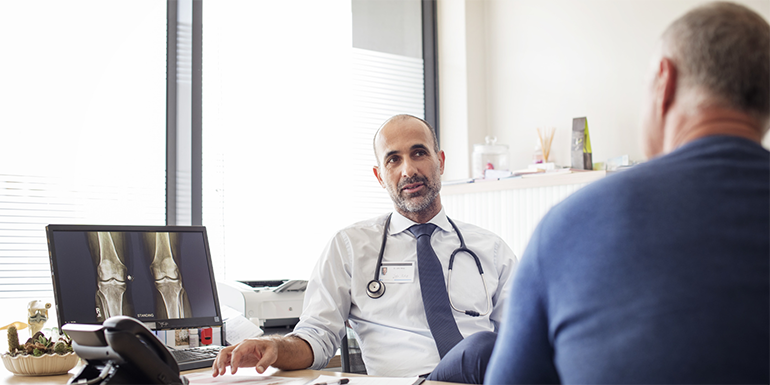 Improving care seems like a monumental undertaking. It sounds expensive. It sounds overwhelming. But the good news is, if you have a clinical data registry, improving healthcare delivery and advancing research has never been more achievable.
Here are three technology essentials to consider when designing, building, and managing a clinical registry that will get you moving closer to measuring and improving care.
Using Healthcare Analytics for Clinical Registries
Running a successful clinical registry, also called a patient registry or disease registry, is a significant undertaking that requires the right technology and the right approach. Today's most valued and most effective registries use healthcare analytics that go beyond data hoarding and warehousing, and set the stage to play a crucial role in advancing care and research.
Specifically, registry technology should cover three essentials:
Integrate: Efficiently and securely acquiring and validating healthcare data from various sources.
Identify: Advanced analytics are used for building trust in the data and uncovering drivers of outcome and variation.
Inform: Delivering insights via interactive reports and tools that inspire data-driven action.

3 Keys of Registry Technology
1. Integrate: Collecting and Validating Data with Clinical Registry Software
Successful data acquisition creates a complete (and sometimes large) data set. Key aspects of this step include data sources, data integration technologies, and validating data for quality.
Registry Data Sources
Registries that achieve measurable results rely on a diverse and complete data set. They harmonize data from many sources, including:
Clinical data from electronic health records (EHRs) and case report forms (eCRFs).
Patient-generated data from patient-reported outcome (PRO) surveys.
Cost and utilization data from claims and public datasets.
Public health data from various government data sources.

Data Integration Technologies
In order to drive participation and value, registries must use efficient electronic data collection methods that ingest, validate, and transform data into a high-quality asset.
Ingest: Deploy standards-based, vendor-specific, and custom connectors to ensure interoperability across EHR and other systems and sources.
Validate: Ensure data completeness, correctness, and accuracy.
Transform: Assemble and organize data into a single consistent representation.
Importantly, successful registries should base their data acquisition strategy on their goals and purpose – not just the data most readily or easily available to them. Focusing on what you need rather than on what you can get will point your registry in the most successful direction.
2. Identify: Analyzing Healthcare Data to Uncover Opportunities
Applying advanced analytics ensures data and reports are credible and trusted. When it comes to building engagement in trusted data, analytics make the difference. Here are a few specific methodological and statistical tools your registry should use.
Risk Adjustment
Risk adjustment is a process that corrects for the severity of a patient's illness. Adjusting for risk levels the playing field and ensures that comparisons of hospitals and clinicians are fair and accurate. For example, our registries use scientifically and clinically validated statistical risk models to evaluate – in real-time – all factors related to each outcome. This builds trust.
Reliability Adjustment
In healthcare quality measurement, when sample sizes for a hospital or clinician are small, the observed rates or rare outcomes may be due to chance and should be considered less precise than rates based on larger sample sizes. Reliability adjustment is a statistical technique that is designed to isolate the signal and reduce the noise in your dataset. Specifically, our methods will determine whether outcomes are due to chance or true differences in quality.
If you want to learn more about risk and reliability adjustment, check out this post: What Are Risk and Reliability Adjustment and Why Do They Matter?
Benchmarking
Healthcare benchmarking means comparing a hospital or practice, or clinician, to others. Your registry should provide benchmarking based on patient characteristics, condition, geography, facility type, or other meaningful groups. It's smart to also blind these benchmarks to protect privacy while still supporting effective measurement.
Peer Group Definition
Peer groups are an important part of benchmarking. Look for reporting and peer benchmarking capabilities at the clinician, practice, multi-practice, multi-facility, and organization levels.
If you want to learn more about benchmarking in healthcare, check out this post: What Is Healthcare Benchmarking?
3. Inform: Delivering Insights and Leveraging Evidence
While leveraging analytics and data science unleashes the value of your registry data, making those insights and reports accessible, engaging, and easily understood unlocks exponential value for your organization.
To make those insights as valuable as possible, aim to prioritize the user experience. You'll want to think of your registry participants and end users as people who have a wide exposure to a variety of digital experiences. That means that when it comes to engaging with your registry, participants:
Expect the same technological experience as their favorite apps or websites.
Share and/or use information when it is convenient and compelling.
Need their experience to be valuable.
When you focus on user experience, it ensures that every person can get value from the data, whether their needs are simple or complex. We've designed reporting features in our registry platform to drive engagement and support data-driven decision making. A few of the specific reporting features we use in our registry platform to drive patient engagement and support analysis include:
Intuitive Views: Analyze data at the patient, provider, or site level, either individually or in aggregate.
Flexible Interaction: Explore data at a deep clinical level by creating custom patient cohorts, analyzing case-level details, and drawing correlations within and across diagnoses.
Personalized Visualizations: Perform complex analyses and create powerful visualizations using embedded Tableau.
Custom Queries: Extract raw or analyzed data for special research projects or reports.
If you want to learn more about our user-centered approach to healthcare analytics software design, check out this post: Designing Healthcare Analytics to Engage Clinicians.
Registry Analytics Checklist
How do you use analytics to ensure measurement is fair, trusted, and engaging?
‍Download this checklist to help you evaluate your registry analytics.

Other Interactive Experiences for Registries
Beyond reporting and data visualizations, registries can harness emerging tools and technologies to add utility and value to their programs.
Patient Engagement and Patient-Reported Outcomes
Patient data informs a more complete view of quality, smoothing the gaps between clinical visits documented in the EHR, and helps you achieve even greater results. Modern patient-reported outcomes surveys and engagement tools allow you to collect the right data from the right patient at the right time.
Clinical Decision Support
Bringing together clinical data and patient-reported outcomes creates a powerful asset. Outcomes calculators use predictive analytics to intelligently combine registry data to predict outcomes, risks, and results of procedures, therapies, and treatments. This enables physicians to make data-driven decisions and empowers patients to engage in informed conversations about their outcomes.
Merit-based Incentive Payment System (MIPS) Reporting
Supporting CMS quality reporting not only drives quality improvement but also extends business value to registries. Physicians and other providers can use registries to report under the CMS MIPS program across all reporting categories, via a Qualified Clinical Data Registry (QCDR) or Qualified Registry (QR). By selecting and reporting on meaningful, clinically-relevant measures, monitoring performance rates, and reviewing estimated MIPS scores, they will understand their expected reimbursements in these programs.
Putting It All Together
These three essential steps to a successful registry are complex but achievable. ArborMetrix has built strong partnerships with our clients that put acquiring, organizing, analyzing, and acting on data at the center of their registry strategy.
Our clinical registry platform and our strategy and partnership, put these goals in their grasp. We bring our proven strengths in delivering clinical data registries that lead to scientific findings and actionable insights that have a real impact on real people.