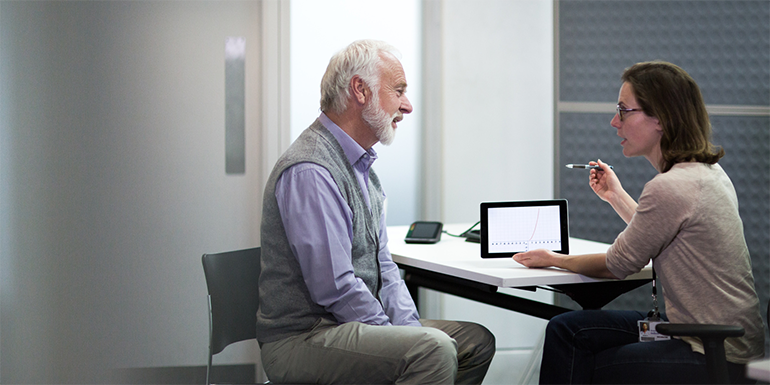 Healthcare's digital transformation is long underway, yet still lagging. Calls for better and more efficient care, therapies, and outcomes have never been louder and more insistent. The role of clinical data registries has never been more significant.
It's necessary to understand the importance of registries and how they make sense out of large volumes of disparate healthcare data to measurably improve care and advance research.
Let's cover the basics:
What Is a Clinical Data Registry?
Types of Clinical Registries
Purpose and Uses of Clinical Data Registries
The Value of Clinical Data Registries
Examples of Quality Improvement with Clinical Data Registries
Example of a Medical Device Registry
Getting Started with Clinical Data Registry Software Solutions
What Is a Clinical Data Registry?
A clinical data registry is an interactive database that collects, organizes, and displays healthcare information.
Clinical data registries are also sometimes called patient registries and disease registries. Professional medical associations and specialty societies tend to use the term clinical data registry, while research and patient foundations and government organizations lean toward patient registry. Because disease registries sound condition-specific, that term is often more popular with industry.
Regardless of the name, the purpose of a data registry is the same: to evaluate and improve outcomes for a population defined by a particular condition, disease, or exposure.
Specifically, registries use observational study methods to collect and harmonize data about the treatment, outcomes, and well-being of patients who receive care over time. They aggregate large data sets and analyze trends or patterns in treatments and outcomes.‍
Registries can serve many purposes and provide value for a variety of healthcare stakeholders. For example:
Physicians and other healthcare professionals use registries to evaluate available treatments, procedures, and therapies, and to understand how patients with different characteristics respond to various treatments.
Medical device manufacturers and pharmaceutical developers use registries to track and understand the effectiveness, safety, and value of medical devices or therapies and drugs entering or on the market.
The number of registries has grown over the past several decades as healthcare information has become digitized. Yet despite their increase in use and significance, registries face real challenges in establishing the participation, engagement, and utility needed to drive their sustainability.
Modern clinical data registries address these limitations by going beyond data collection and data warehousing. They rely on advanced analytics and data science to transform data into meaningful insights that are useful, usable, and used by a variety of stakeholders to achieve a desired outcome.
Types of Clinical Registries
Clinical registries come in many different forms. The type of registry depends on the organization managing or sponsoring it, and the patient population, disease, condition, or treatment it examines.
Although registry goals and purposes vary, when designed with the right approach and built with the right analytics technology, they can measurably improve care.

What Is a Patient Registry?
A patient registry, also called a disease registry, tracks information about the health status of patients and the care they receive for a specific disease or condition. Patient registries bring together data to evaluate longitudinal outcomes, best practices, treatment guidelines, and to support research and therapeutic development.
A growing number of patient foundations and pharmaceutical organizations are establishing patient registries to study the treatment of rare diseases and conditions, such as hemophilia and other genetic diseases.
What Is a Specialty Registry?
Specialty registries are clinical registries focused on advancing care and outcomes across a medical specialty or subspecialty, such as pathology, sleep medicine, surgery, and trauma medicine. These registries often aim to develop guidelines and decision support tools, accelerate research, and advance care through collaborative quality improvement. Specialty registries also provide a mechanism for physicians and providers to report to the Centers for Medicare and Medicaid Services (CMS) under the Merit-based Incentive Payment System (MIPS) as Qualified Clinical Data Registries (QCDRs).
What Is a Population Registry?
A population registry is more broadly focused across entire patient populations and spans both specialty care and specific diseases and conditions. These registries aim to capture the health, well-being, diagnostic, treatment, and outcome data for every patient within a population defined by demographics (age, gender, or other social determinants), geography (state, region, country and including like Health Information Exchanges and within Health Departments), or disease or condition (diabetes, cancer).
What Is a Medical Device Registry?
A medical device registry is focused on tracking the effectiveness, safety, and value of medical devices. Device registries come in several forms. Medical specialty organizations may collect data on various devices used for procedures or conditions, as part of their clinical data registries. Medical device companies establish registries and use registry data to support post-market surveillance.
What Is a Payer Registry?
A payer registry is established by a healthcare payer focused on measuring and improving value by advancing outcomes and reducing costs. Payer-sponsored registries are often organized across a specific geography or region, and by specialty – surgery, urology, emergency medicine, etc.
Purpose and Uses of Clinical Data Registries
Healthcare organizations such as medical specialty societies, patient foundations, pharmaceutical companies, and medical device manufacturers establish registries for many purposes and uses.
Clinical Data Registry Purposes
Benchmarking
Clinical effectiveness
Cost effectiveness
Treatment surveillance
Population surveillance
Clinical Data Registry Uses
Decision support
Guideline development
Measure development
Registry-based clinical trials
Education development
Certification and accreditation

The Value of Clinical Data Registries
Clinical data registries are valuable when they measurably improve care and achieve results. Examples of this in action are advancing research, establishing and evaluating guidelines, or managing and reducing costs.
Achieving value with a registry happens when:
Physicians and providers use high-quality, data-driven insights to better understand expected outcomes, make evidence-based decisions, and share best practices.
Patients share timely and personal data about their condition and outcomes and gain a greater understanding of their care that leads to informed shared decision-making.
Researchers and developers use registry data as the foundation for registry-enhanced or registry-based research, clinical trials, or post-market surveillance studies.
Examples of Quality Improvement with Clinical Data Registries
In 2019, the Michigan Surgical Quality Collaborative (MSQC) used registry data to generate knowledge in the form of procedure‐specific opioid prescribing guidelines.
The result?
Post-surgical opioid prescribing dropped by 30%, and post-surgical patient opioid consumption dropped by 50%, according to a paper published in the New England Journal of Medicine. There also was no change in patient-reported satisfaction with care and pain in the week after surgery.
The Pediatric Cardiac Critical Care Consortium (PC4) aims to improve the quality of care for pediatric heart patients through a clinical data registry that allows hospitals to evaluate their own outcomes and learn best practices.
Their efforts are paying off.
Eighteen hospitals significantly reduced mortality and improved care for children with critical heart conditions, according to a paper published in the December 2019 edition of the Journal of the American College of Cardiology. Specifically, they achieved a 24% decrease in postoperative mortality among participating sites between 2014 and 2018.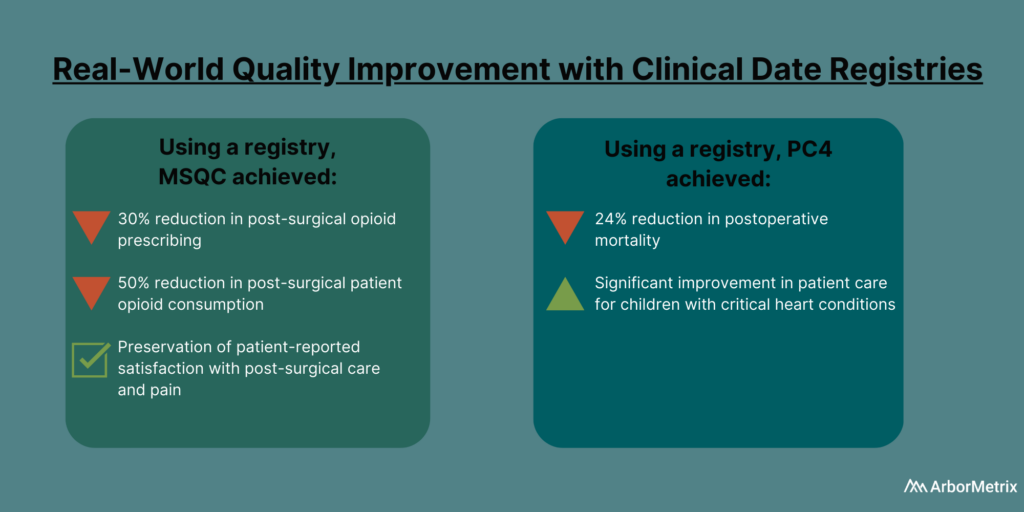 If you want to know more, read this post about how MSQC and PC4 are top examples of quality improvement in healthcare.
Example of a Medical Device Registry
Clinical registries sponsored by medical specialty societies and patient advocacy organizations are proving to deliver tremendous value in tracking and measuring the effectiveness of medical devices and drugs. Medical device and pharmaceutical developers leverage registry data to gain insights into how their products actually perform in the real world.
For example, the Extracorporeal Life Support Organization (ELSO) aimed to transform its international medical device registry into a rich data asset for ECMO device manufacturers. Through real-time access to device usage and outcomes data, coupled with advanced analytics and reporting services, device manufacturers have the tools they need for data-driven research and development, rapid regulatory submissions, and cost-effective registry-based clinical trials.
Read more about how ELSO's global medical device registry, helps bridge the gap between what really happens in healthcare and what is "supposed" to happen by turning real-world data into real-world evidence.
Getting Started with Clinical Data Registry Software Solutions
Today's most successful clinical data registries use healthcare analytics technology that goes beyond data collection and data warehousing and plays a crucial role in advancing care and research.
Specifically, a clinical data registry platform should:
Acquire various data using industry-leading technology and standards.
Assemble the data into real-world evidence using advanced analytics and data science.
Enable various users to act on the evidence using dashboards, reports, surveys, and other unique decision-support tools.
There is a lot that goes into each of these 3 essential building blocks. Read this post to learn more about designing a patient registry to improve care.
Leverage the Power of Clinical Data Registries
The National Quality Registry Network outlines some key considerations when approaching a clinical data registry and deciding what to outsource to a vendor. This includes your in-house availability and expertise, budget impact, convenience, and the many responsibilities that can be outsourced or kept in-house.
At ArborMetrix, we help healthcare organizations and companies demonstrate real and measurable results through robust analytics and intuitive reporting. Through our comprehensive partnerships and clinical expertise, we enable our clients to leverage their real-world evidence for real-world results.
‍
‍