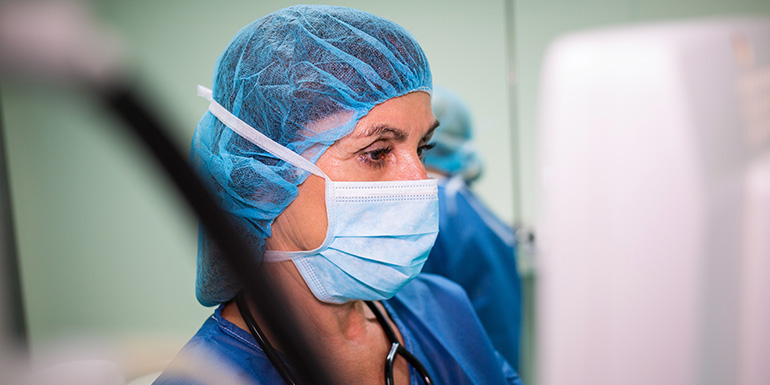 Sound Physicians is a national medical group focused on acute, hospital-based care. Sound is the largest hospitalist and critical care group in the United States, with more than 3,500 physicians and advanced practice providers in hospital medicine, intensive care, and emergency medicine, at more than 250 hospitals located in 36 states.
In addition to its national scale, Sound is also a leader in physician performance and analytics. They rely on an advanced analytic and IT infrastructure and workflow to improve care, manage performance, and monitor trends.
Real-Time Monitoring to Manage COVID-19
Sound has been monitoring and managing COVID-19 since early 2020 when the first cases started occurring in the United States. In addition to ensuring patients receive appropriate care and achieve the best outcomes, the safety and protection of clinicians is top priority.
Sound's Chief Clinical Officer, John Birkmeyer, M.D., put it this way in a recent interview with the NEJM Catalyst:
"Our major focus in reacting to the COVID-19 epidemic has been to retool our nationwide IT platform to track in real time which patients have COVID in the presence or absence of testing confirmation. That same IT tool not only applies to patients that have COVID but simplifies our team's approach to be able to concentrate those patients on specific teams and in specific parts of the hospital."
Leveraging their proprietary charge documentation application, Sound embedded logic into their technology and steps into their clinical workflows to prompt physicians to identify whether the patient is being treated for and/or tested positive for COVID. Physicians are prompted to answer this question, at both admission and discharge, for any patient presenting with a primary diagnosis of coronavirus, respiratory illness, or sepsis without another cause.
This near real-time data drives ArborMetrix analytic and reporting tools, from which Sound users can gather insights to understand the coronavirus impact on daily admissions, bed capacity, resource utilization, provider well-being, and standard acute care, at a local, regional, and/or national level.
As Dr. Birkmeyer told NEJM Catalyst:
"The other advantage of that type of real-time tracking, particularly given all of the fluidity involved in growth in admission rates, is that it allows Sound as a national organization to better keep its finger on the pulse of the epidemic. Specifically by us appreciating what the prevalence is at any one of our sites, it allows us to tailor our support to the hospital sites and to the physician teams that need that most. Sometimes that support focuses on the availability of PPE equipment — and specifically, where we can, backstopping shortages of N95 masks. But that type of support also extends to providing emotional support and well-being services to physicians who are significantly stressed."
Sound's coast-to-coast footprint provides them with a nationally-representative database on COVID admissions, treatments, and outcomes across all of their partner hospitals. This expansive data positions Sound with the unique opportunity to help state governments, federal bodies, media, and other stakeholders, understand the national impact of the pandemic, as it relates to virus spread, population impact, and healthcare resource utilization.
This map from April 21, 2020, shows the volume of suspected COVID-19 cases at Sound Physician partner hospitals in the continental U.S.
Nationwide COVID-19 Dataset Drives Research
Additionally, Sound is partnering with academic researchers to use the data in order to understand:
The impact the COVID-19 pandemic has on hospitalizations for acute medical illness.
Risk of infection among front-line healthcare professionals.
Risk factors for adverse outcomes of COVID-19 in hospitalizations.
Effects of state social distancing orders on COVID-19 hospitalizations.
Effects of COVID-19 pandemic on stress and burnout in healthcare professionals.
Through their partnership with ArborMetrix, Sound is able to provide their field leadership and users with interactive reporting tools based on near real-time data, to gain key clinical insights as to how COVID-19 is impacting daily admissions, bed utilization, resource utilization, and provider safety. Armed with data and analytics, Sound is positioned to be a leader in the fight against the coronavirus.
If you have any questions about these programs or would like to learn more about our healthcare analytics solutions for physician organizations or contact us here.