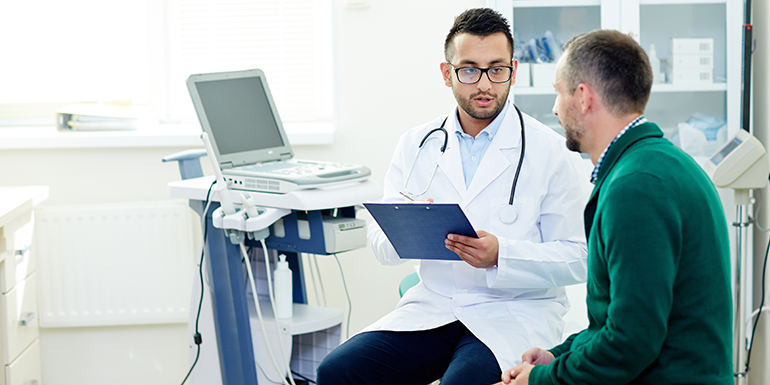 Can you hear it? The patient voice is getting louder.
Healthcare organizations are increasingly using patient reported outcome surveys to gather information about health status, symptoms, and patient-centered outcomes that take place in between visits and outside of a physician's scope of access.
The data collected not only makes patient records more complete and accurate for the research initiatives of the sponsoring organization, but also encourages:
Shared decision making.
Family engagement.
Longitudinal patient engagement at scale.
Let's look at examples of how three registries are using patient-reported outcomes (PROs) to advance their research programs.
How MUSIC Uses PROs to Inform Shared Decision Making
The Michigan Urological Surgery Improvement Collaborative (MUSIC) is a physician-led quality improvement organization that evaluates and improves the quality and cost efficiency of care for patients with prostate cancer and other urologic diseases.
The statewide MUSIC registry is a recognized leader in urologic quality improvement. MUSIC's significant program results make it a national example of the benefits of collaboration and using data, including PROs, for improving patient care.
Achieving a 50% reduction in prostate biopsy-related hospitalizations by implementing process changes for antibiotic prophylaxis focused on addressing fluoroquinolone resistance.
Using data to develop and implement evidence-based appropriateness criteria for radiographic staging of all men with newly diagnosed prostate cancer.
Developing an infrastructure for video-based assessment of surgical technique with the aim of linking such assessments with patient-reported outcomes and perioperative morbidity data.
Quality Improvement Priorities
One of MUSIC's key priorities focuses on improving patient outcomes after radical prostatectomy. To achieve this goal, MUSIC and ArborMetrix developed the infrastructure for measuring and improving longitudinal functional outcomes and health-related quality of life after radical prostatectomy.
PRO Program Design
MUSIC uses patient-sourced data to understand the longitudinal trends of treatment effects. Here's a high-level look at their program:
Patients receive a baseline questionnaire before surgery, and then receive the same survey at three, six, 12, and 24 months following surgery.
All data flows directly into MUSIC's registry.
Patients review their survey responses with their physicians via a PRO Patient Summary Report. Each patient's individualized report helps the patient and physician better plan for the patient's recovery pathway following surgery.
Results with PRO
When it comes to the success of any registry program, measurable, published results are the arbiter.
MUSIC frequently publishes peer-reviewed manuscripts using registry data. The two papers below demonstrate the high response rates achieved, and the use of industry standard measures to gauge quality of life after surgical interventions.
A study published in the September 2017 edition of Urology concluded that "Collection of electronic PRO via this unified, web-based format was successful and provided results that reflect expected recovery and identify opportunities for improvement."
The study published in August 2019 edition of the Journal of Clinical Oncology examined the validity of PROMIS measures following radical prostatectomy and concluded that "PROMIS Global Satisfaction With Sex Life and Interest in Sexual Activity single-item measures are fundamental measures in prostate cancer survivorship. Patients are interested in sex despite functional losses and can salvage satisfaction, thereby giving insight into attainable patient-centered survivorship goals for sexual recovery after radical prostatectomy."
Key Takeaways for Your PRO Program
Clinical focus on specific procedures and patient cohorts allows for deeply granular data collection that supports meaningful quality improvement.
Patient follow-up cadence is clinically relevant to the procedure, capturing data at intervals important for trending.
The scope of the PRO surveys captures important quality of life and mental and emotional health variables that provide important context to recovery data.
How PC4 Extends Patient Engagement to Family Engagement in PROs
The Pediatric Cardiac Critical Care Consortium (PC4) aims to improve the quality of care for pediatric heart patients through transparent data sharing that allows hospitals to evaluate their own outcomes and learn best practices.
Research Priorities
PC4 uses patient-reported outcomes to collect routine standardized longitudinal data on children who have undergone congenital heart surgery. With improvements in early survival following congenital heart surgery, it has become increasingly important to understand longer-term outcomes. But routine collection of these data is challenging and remains very limited.
PRO Program Design
PC4 data collection goals from patients and families encompass all aspects of physical, mental, emotional and social health, and follow patients through to their adulthood. Because these surveys tend to collect many variables, they have designed their survey frequency and formats to be as low-burden as possible, while still collecting the required data elements.
PC4 PRO data collection occurs annually and is age-customized.
The survey includes both a general questionnaire and specific quality-of-life questions related to school performance, physical activity, and other measures.
The PRO module is directly integrated with the PC4 registry, which allows for automated identification of eligible patients and integration of the follow-up data with baseline demographics and clinical data contained within the registry.
The PRO system is designed to automatically generate an email with a pre-authenticated link for age-appropriate survey completion for those who meet criteria and are due for follow-up. PC4 uses email as its PRO methodology, as preferred by patients and families.
Key Takeaways for Your PRO Program
Customize your survey to engage your target patient demographic. This is for both the technology that you use to deliver the survey, and the language in which you write the survey.
Engage your population for the long term to allow for deeper understanding of longitudinal outcomes that could open many new opportunities for meaningful research.
Don't forget the families. Caregivers and families play an important role in providing important health information for patient populations with limited mobility or technical sophistication.
How the National Hemophilia Foundation Delivers Longitudinal Patient Engagement at Scale
The National Hemophilia Foundation (NHF) partnered with us to deliver a patient-centric research registry focused on improving the quality of life of persons with a bleeding disorder and enhancing the ability of external researchers to discover and measure the impact of transformational therapies.
Research Priorities
NHF is using PRO data to drive rapid-cycle research. While they utilize PRO in the traditional format of highly detailed, structured, and coordinated surveys delivered on a specific cadence, they also use PRO to do rapid response surveys on hot topics that impact their population.
The hot topic surveys are typically fewer than 10 questions. They have included topics ranging from vaping use in specific patient cohorts to how the COVID pandemic has affected the community. These rapid-response surveys help inform and adjust NHF's emerging research priorities.
PRO Program Design
Especially important, NHF also helps affected individuals' level-set their experience compared to others.
Patient-facing reporting uses deidentified and aggregated data from other patients in their cohort filtered by diagnosis or other relevant demographic and clinical attributes. This powerful reporting encourages participants to engage in PRO surveys so they can unlock additional reporting topics and add their data to the community totals.
NHF Longitudinal Patient Dashboard Displays Aggregated Community Statistics
Key Takeaways for Your PRO Program
PROs can be used with engaged patient populations to rapidly gather data on emerging health topics.
Providing data back to patients encourages ongoing engagement in survey participation and gives them a powerful tool for shared decision-making.
Patients who see their data next to other patients like them have context and clarity on their own experiences.
Patient-reported outcomes provide a more insightful data story.
We continue to invest in robust, easy-to-use patient-reported outcome tools that collect the right data from the right patients at the right time. PRO platforms are the optimal mechanism for capturing subjective symptoms and quality of life metrics, without the data passing through the interpretive filters inherent in outcomes recorded in the medical record.
Let's brainstorm which of your programs, personas, and patient cohorts that could benefit from this powerful toolset.
If you have any questions or would like to learn more about our patient-reported outcomes solutions, contact me at bmoore@arbormetrix.com.