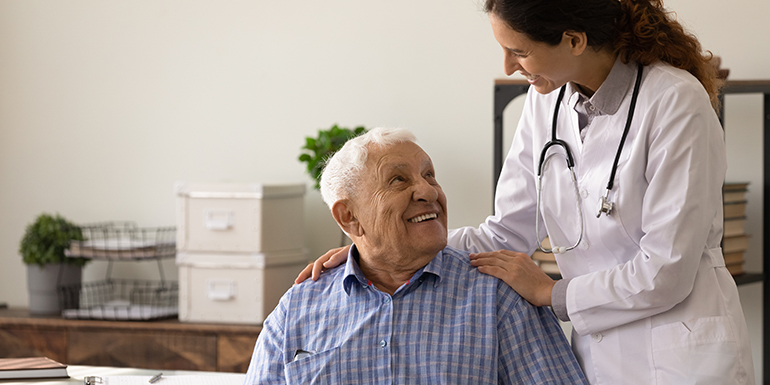 Quality improvement in healthcare delivery benefits everyone — from patients and clinicians to hospitals, payers, and life science organizations. Patients have better outcomes, clinicians make evidence-based decisions, hospitals and payers achieve financial efficiencies, and life science organizations develop safer products.
To achieve these goals, you need a solid understanding of what quality improvement is, who contributes, why it matters, and how to evaluate and track your progress.
In this post we will cover:
What Is Quality Improvement in Healthcare and Why Does It Matter?
Who Contributes to Healthcare Quality Improvement?
How Do You Evaluate Healthcare Quality?
How Do You Achieve Quality Improvement?
Quality Improvement Projects in Healthcare
What Is Quality Improvement in Healthcare and Why Does It Matter?
Quality improvement is measurable progress toward better patient care and outcomes.
What might quality improvement look like in practice? Examples include:
Reducing adverse events
Preventing unnecessary hospitalizations
Developing safer health products and devices
Achieving financial efficiencies and savings
Improving patient quality of life
Making evidence-based care decisions
Put simply, quality improvement matters because it benefits everyone. Without quality improvement efforts, clinical patient care, pharmaceutical research and development, and medical device innovation would struggle to advance. Additionally, many value-based care programs and other forms of healthcare reimbursement are linked to quality improvement.
Quality improvement is a crucial goal for any healthcare organization. To get better, you need to know where you stand, how you compare, and what you can do to improve.
Who Contributes to Healthcare Quality Improvement?
Healthcare quality improvement requires buy-in and cooperation from a diverse group of healthcare stakeholders.
Clinicians and providers are integral to providing care that is safe, efficacious, and has value.
Patients and caregivers are vital to healthcare quality through providing feedback through patient-reported outcomes (PROs) programs to help improve quality of care.
Hospitals, health systems and practices are fundamental as they provide the structural foundation and systems needed to foster an ecosystem of quality.
Payers ensure that providers are compensated fairly and equitably for high-quality care and can drive improved outcomes in a value-based care system.
Other stakeholders in the healthcare quality ecosystem include pharmaceutical companies and medical device organizations, which improve healthcare through providing safe and effective interventions. Non-profit organizations and agencies are also tasked with overseeing and promoting quality practices.
And, last but not least, specialty societies, associations, and collaborative quality initiatives are essential to evaluating quality through the development and implementation of quality measures and often steward clinical data registries that are the hub of quality improvement practices.
Achieving quality improvement at scale requires bringing multiple clinicians, sites, and patients together with a common goal. This is often achieved through the help of a robust data infrastructure, such as a clinical registry, that can support numerous and evolving quality initiatives.
How Do You Evaluate Healthcare Quality?
Although there are many ways to assess and achieve healthcare quality, attaining quality improvement at scale is made easier with an advanced clinical data registry.
Registries collect, organize, and display information with the purpose of evaluating and improving outcomes. Combined with rigorous analytics, clinical registries can point to areas for improvement, identify best practices, and help make informed decisions to reach your quality goals.
Specifically, clinical data registries track information about the health status of patients and the care they receive. They bring together large data sets and analyze trends or patterns in treatments and outcomes to help inform best practices, guidelines, treatment decisions, and more.
Check out this post to learn more about clinical data registries and how they can be leveraged to achieve real-world quality improvement: The Basics of Clinical Data Registries
To best measure quality and achieve improvement, we recommend working with a registry technology partner through a three-step process.
Align your data strategy with your goals.
Before building a registry for quality improvement, you need to define your goals. What would you like to improve? What would success look like? With the end in mind, you can then pull together relevant data from many sources in one place to produce reliable insights for decision-making.
Ensure measures and reports are clinically meaningful.
Making real progress requires clinician engagement. By including clinicians and tracking measures that affect real-world clinical quality, you can facilitate evidence-based comparisons that catapult quality improvement efforts.
Leverage insights to make informed decisions.
With high-quality data, you gain access to high-quality insights, which you can then use to make informed decisions that are rooted in validated, accurate data and rigorous analytics. Put simply, when you have insights you and others trust, you can identify the best path to quality improvement.
Check out this post to learn how the long-term success and sustainability of a registry are affected by several decisions: How to Define Success for Your Clinical Registry
Evaluating healthcare quality improvement requires a nested, multifaceted approach with stakeholders being accountable to one another while servicing their own needs.
Hospitals, health systems, and practices provide the structural backbone of quality, and are necessary for the success of quality improvement for clinicians, pharmaceutical companies, and medical device manufacturers.
All quality improvement efforts rely on a backbone of measurement, data collection, and implementation that optimizes clinical workflow and evaluation of quality is best achieved through the registry.
Evaluating Quality for Clinicians
To improve care quality, clinicians need to be able to:
Measure and understand their own clinical performance.
Optimize decision-making with the right information at the right time.
Drive real-time interventions through predictive analytics.
Act on performance feedback quickly and decisively.
Identify best practices and make evidence-based decisions.
Provide value through performance measurement coupled with technology and systems for improvement.
Clinicians achieve quality improvement when patients have better care, better outcomes, and better quality of life. With the right tools, such as an advanced clinical data registry, clinicians can easily track, measure, and compare their quality of care.
A clinical registry that supports MIPS reporting, whether through a qualified registry (QR) or a qualified clinical data registry (QCDR), is one piece of a comprehensive solution that facilitates quality improvement. Organizations that participate in QCDRs drive their own success with quality reporting, and they also optimize their reimbursement, understand how to improve, and take control of their performance.
Evaluating Quality for Hospitals, Health Systems, and Practices
Large healthcare organizations such as hospitals and health systems also strive to improve care for patients, but their measures of quality improvement differ slightly from clinicians.
To achieve measurable quality improvement, hospitals should:
Optimize financial performance.
Empower and engage clinicians with real-time performance feedback and other vital information that drives results.
Deliver high-value patient care as efficiently as possible.
Manage resources, reduce costs, and improve outcomes across episodes of care.
Drive real-time interventions and optimize clinical workflow with predictive analytics.
Hospitals and health care systems are integral in the quality improvement process and participate in a variety of ways. Clinical registries are essential in the data collection process to fulfill the requirements for many quality indicators and therefore be the vector for quality improvement.
Additional common quality improvement tools for hospitals include:
Evaluating Quality for Pharmaceutical Companies
For pharmaceutical companies with products and medications on the market, understanding those products' effectiveness and safety in the real world is key, and can help buttress quality improvement efforts.
For quality improvement efforts to be successful, pharmaceutical companies must:
Evaluate product effectiveness in large, diverse patient groups.
Identify risks, complications, and adverse outcomes as they arise.
Compare new products with existing options and the standard of care.
Update guidelines as certain populations or groups find more or new benefits.
Comply with regulatory requirements.
Enhance product safety and efficacy.
Evaluating Quality for Medical Device Manufacturers
Quality improvement for medical device manufacturers relies on real-world evidence. To improve, you must understand how your device performs in the real world, with real patients—and how it compares to existing options and the standard of care. Registry-supported research and post-market surveillance can improve quality throughout the product lifecycle, further enhancing the efficacy and safety of medical devices.
More specifically, quality improvement efforts can help:
Address risks, complications, and adverse outcomes.
Establish a new standard of care.
Update usage guidelines.
Comply with regulatory requirements.
Ensure your devices perform optimally in real-world settings.
Accelerate your path to value.
Device registries are powerful tools for assessing device safety, efficacy, and value, and ultimately delivering high-performing products to patients.
How Do You Achieve Quality Improvement?
Implementing and scaling healthcare quality improvement can be summed up in the three phrases that are integral to ArborMetrix's (and our customers') success: Specify, Measure, Act.  This approach mirrors the "Plan-Do-Study-Act" cornerstone of quality improvement.
Learning health systems, medical specialty societies, and collaborative quality initiatives all depend upon the foundation of registries to manage quality improvement at scale and follow this same methodology.
Specify ‍
The clinical data registry is the workhorse of the specification phase of quality improvement. Breaking down metrics into actionable items and collecting the necessary data to track them is integral to any successful quality improvement program.
Data specification and collection happens through many modalities including patient-reported outcome surveys, as well as collection of efficacy data as related to interventions like drugs and medical devices.
Measure‍
All quality improvement requires robust measurement through determining and prioritizing problem areas that need improvement and creating metrics to track these areas.
Measurement begins with using existing data and research to understand problems and analyzing gaps in care. It occurs at every level of healthcare quality including clinician performance improvement programs such as MIPS, health system-based programs such as HEDIS, and AHRQ quality indicators. Measurement also occurs at industry level, in post-market surveillance and the FDA Pharmaceutical Quality System.
Act‍
Using the insights gained from the data collection process to act and make changes in your processes is the final step in the quality improvement process.
However, quality improvement does not stop here. The quality improvement process is continuous, and your results should be used as your new baseline data for building ongoing quality improvement processes. This includes sharing performance feedback with clinicians and hospitals, sharing ratings with patients, and disseminating information to the broader medical community.
Collecting additional data and measuring adherence and outcomes in real-time accelerates the process and builds a canon upon which clinical guidelines are developed.
Quality Improvement Projects in Healthcare
Quality improvement can result in a host of benefits — clinical, procedural, financial, and more. Here are a few organizations that have achieved significant accomplishments as a result of their quality improvement projects and initiatives. They each deploy a modern data infrastructure through their clinical data registries to support data-driven action.
Project: Enhancing Prostate Biopsy Safety
The Michigan Urological Surgery Improvement Collaborative (MUSIC) is a clinician-led quality improvement collaborative comprised of a network of urology practices. They use a clinical data registry to support various quality initiatives.
One of MUSIC's earliest quality improvement projects aimed to enhance the safety of prostate biopsy. Specifically, the collaborative focused on "reducing the frequency of adverse events after transrectal ultrasound guided prostate biopsy as a diagnostic tool for prostate cancer." MUSIC leveraged registry data and its collaborative to identify the key to reducing the majority of prostate biopsy related hospitalizations. They developed two specific treatment pathways and introduced them via the MUSIC Biopsy Pathway Protocol.
Data in the MUSIC registry demonstrated a nearly 50% reduction in prostate biopsy-related hospitalizations since the start of their QI initiatives in this area.
Project: Reducing Opioid Prescription and Consumption
The Abdominal Core Health Quality Collaborative (ACHQC) (formerly the Americas Hernia Society Quality Collaborative) aims to improve outcomes and value in abdominal core and hernia patient care. Through the ACHQC registry, data collection, analysis, and collaborative learning, the collaborative provides best practices, decision support, care pathways, and ongoing performance feedback to participants and partners.
ACHQC established an Opioid Reduction Task Force and Initiative to develop "comprehensive postoperative pain management strategies that can be effectively utilized following hernia repair." The task force leveraged ACHQC's clinical registry to collect and analyze details on post-operative prescriptions and patient-reported need and utilization of pain medications following hernia surgeries.
The task force and ACHQC leadership developed a comprehensive post-operative pain management strategy. "Importantly, this new protocol focuses on alternative strategies for postoperative pain reduction and encourages opioids as second-line therapy."
Project: Improving Outcomes for Children with Critical Heart Conditions
The Pediatric Cardiac Critical Care Consortium (PC4) is one of five founding organizations of Cardiac Networks United (CNU), a national network of physicians and pediatric hospitals that aims to advance pediatric congenital heart disease care and outcomes. More specifically, PC4 aims to improve the quality of care for pediatric heart patients through transparent data sharing that allows hospitals to evaluate their own outcomes and learn best practices.
Their efforts are proving effective and the results are outstanding. Eighteen hospitals significantly reduced mortality (by ~24%) and improved care for children with critical heart conditions, according to a paper published in the December 2019 edition of the Journal of the American College of Cardiology. The study analyzed more than 19,000 hospitalizations that included cardiac surgery at the participating sites in the PC4 registry.
Project: Reducing Readmissions and Emergency Department Visits
The Michigan Bariatric Surgery Collaborative (MBSC) is a quality collaborative that improves the science and practice of metabolic and bariatric surgery through patient-centered obesity care.
One of MBSC's recent quality improvement projects, called M-PIRRE, aims "to identify and address the underlying causes of avoidable ED visits, then design and implement site-specific evidence-based interventions to reduce them."
MBSC has developed a four-phase program that involves developing a patient ED questionnaire, analyzing patient-provided data, designing and implementing site-specific intervention plans, and measuring the impact of those plans. MBSC will create a "universal toolkit based on successful evaluations of underlying causes and interventions to eliminate them" and, ultimately, "reduce ED visit rates among sites and MBSC as a whole."
Check out this post for additional examples of quality improvement achieved through clinical registries: Top Examples of Quality Improvement through Clinical Registries